Today, we're taking a look at the best scooters of 2020. This year, we reviewed many different electric scooters, from low-cost options perfect for commuters to higher-end scooters with a lot more top speed and performance. At the end of the article, we do acceleration and brake test for all scooters we tested. Keep in mind, this list is from the scooters we personally tested.
Xiaomi M365 – Best electric scooter for commuting
If ever you've considered buying an electric scooter, you've definitely stumbled past the Xiaomi Mijia M365. Made by Xiaomi, the "Apple of China". This stands out to the looks, portability, and most importantly the price points. This is one of the most affordable scooters you can find.
There are a ton of great reviews of the Xiaomi M365. So rather than duplicating these existing videos, we decided to do something a little bit different. This review will approach M365 from a test perspective, putting ourselves in the shoes of a daily commuter to really see how this bad boy performs. As a commuter, I'll be looking for reliability, low-maintenance, portability, and whether it makes the commute more fun and practical.
Let's start with a quick overview of specs and design. Checking in at only 27 pounds. The M365 is made of aerospace-grade aluminum, has two 8.5 inch air-filled tires, which act as suspension. The design of the deck is sleek with rubber-grip tape on top and a deck secured by 17 screws protecting the battery and electronics underneath. The deck is your best bet at keeping water out of the inside when riding in the rain. More on that later. One 250 watts motor in the front, one disk brake at the back and it's also worth mentioning there's actually a regen brake on the Xiaomi which can be controlled by your mobile Xiaomi app.
So far, a few things that stand out to us are the folding latch, which is extremely simple to use, and truthfully does fold the scooter in three seconds or less. It's a three-step process; remove the safety, unlatch, and fall to click. Another detail we liked is the kickstand. It sticks out from under the deck and just enough for your foot to find it and open it very easily. You can see Xiaomi made a choice to build a scooter with as few parts as possible to limit the number of parts that can actually brake. Up top, we have the handlebar frequently critiqued for the lack of display, something the Xiaomi Pro actually addresses with the new version.
Just a note, if you do have a Xiaomi M365 and you want a speedometer, there is a replacement screen with a speedometer
Brake latch on the left, full LED battery indicators in the middle, and accelerator throttle on the right. The middle button turns the scooter on and off and it also allows you to switch between eco and regular modes which come in different top speeds. It can also switch the front and rear lights on and off. The rear lights can also be activated by braking.
Many customers also go for the shoulder strap or carrying handle, which really makes it easy to carry the scooter on a train or bus for example. For those looking for a scooter to go to and from the car. This guy measures 42.5 inches by length and 19 inches in height. Keep in mind the handlebar does not collapse, so you need to buffer an extra 17 inches in the handlebar. We find it fits in most car trunks without any issues.
Finally, the M365 comes in two colors, the black and the white model. The white is super sleek but does get very dirty quickly. For that reason, we generally prefer the black version. In conclusion, as far as the design and overall aesthetics go, the M365 is definitely a standout scooter. It feels steady, well-made and looks great.
Now let's talk about what this good-looking scooter can really do. Featuring a 250 watts front hub brushless motor, the M365 has a top speed of 15.5mph. This is what Xiaomi advertises and we find it's actually pretty accurate. 15.5 miles per hour is not fast by any means and we find ourselves cruising at the maximum speed most of the time. It's faster than most bicycles, but after a few weeks of riding it, you start to crave a little bit more speed. In terms of acceleration, the 250W motor takes around six seconds to reach top speed.
The final dimension of the motor power, we look at its ability to climb hills. This is perhaps the biggest weakness of the M365 which is supposed to handle inclines of up to 14 degrees, but in reality we seem to be struggling at an incline of seven to eight degrees. That said, it's not a big deal if you're willing to give it a few kicks up the hills. Keep in mind riding your scooter up hills is one of the fastest ways to drain its battery.
Speaking of which the M365 has an advertised range of 18.6 miles. We did a range test in eco-mode in good weather conditions with a 165lbs rider and managed to get almost at 10.4 miles. With average usage meaning faster speeds, more stopping and starting, and some hill climbing, you're probably looking at closer to 14 miles in distance. If you're looking at the M365 as a true last-mile solution, this should be perfectly sufficient. However, if you need to walk a little bit more distance, you may want to consider the Xiaomi Pro. When drained to 0% the battery will take you around five hours to fully charge up again.
So does the performance matched the good looks of the scooter? Somewhat, the power and range is good for short distance commuters or perhaps recreational scooter users. For anyone looking to replace their car with a scooter, you may want to invest just a little to get that extra power.
One point we haven't discussed so far is the riding comfort. The only form of suspension the M365 has is air-filled tires. That's it. This means that you'll feel every bump in the road. While this isn't detrimental for short rides, it does become a bit annoying when riding distances more than 10 kilometers. You feel it in your legs and your back, and if you're like us and have some bumpier parts of a journey to travel through, you may need to start planning around them.
The second consequence of a lack of suspension is that your tires effectively become the shock absorption mechanism. If ever you hit a pothole or curb, there's a good chance your tire will pop. We see some riders get flats on average once or twice a year during the eight months riding season. In the case of a flat tire, you can use spare tubes form Xiaomi or aftermarket solid tubes. Overall, this is likely the biggest weakness of the Xiaomi. The lack of suspension causes longer rides to be uncomfortable and increase the likelihood of getting a flat. This is a choice that's Xiaomi made to keep the cost of the scooter low. If you stay careful and take good care of your scooter, you can get through a season without any flats.
One of the favorite features of the M365 is a mobile app it comes with. You need to download the Mi Home App (iOS and Android)and set the location to China to get it to work. But once you're connected, you'll be able to control your scooter and gain access to riding stats such as distance but mainly mileage, cruise control, and other through the app.
So overall, what is our take on the Xiaomi? The design is beautiful and durable. The performance is decent for short distances, but lacking for longer distance commuters. The maintenance is a little tricky, but overall, if you're looking for a scooter for this last mile, this is your jackpot. It's great value and will serve that need perfectly. However, if you're looking for something that can take you directly to work instead of a bus or a train, we would really suggest investing $200 to $300 more and get a Segway ES4 or Ninebot MAX
Segway Ninebot MAX – Best Long range scooter
First, we have the Segway Ninebot MAX. This scooter is currently good priced at amazon.com and we think it's one of the best options for those looking for a sturdy long-range commuter scooter. This is the same scooter being used by rental scooter companies like Bird, Spin, Lime, and others.
The Ninebot MAX has a large battery with a range of 40 miles, which is perfect for long commutes. While the acceleration isn't as quick and powerful as the other scooters, it still gets going at a decent pace. It features a top speed maxed at 18 miles per hour when riding on mode three. The base of the scooter is wider, the front stem is taller, and the wheels are larger than similarly priced scooters. This means a better and more comfortable ride compared to other scooters on the market.
The 350-watt motor is also located on the back and also features a front drum brake. This scooter engages the electric rear brake when braking.
Segway Ninebot ES4
Another great option from Segway is the Ninebot ES4. The Ninebot ES4 is essentially the ES2 model, but with an additional battery on the front step. You can find the ES2 model for less money. The extra battery on the ES4 increases the top speed from 15 miles per hour to 19 miles per hour, and increases range up to 28 miles instead of 15 miles on the ES2. There's also a noticeable increase in acceleration with the ES4 battery as well.
Keep in mind with the extra battery, it adds five pounds to the weight, making scooter heavier at 32 pounds. For brakes, the ES4 has both front and rear brakes. The front uses the front motor to slow you down. You also have a rear brake you can use with your foot. For tires, the Segway has solid rubber tires, which means you never have to worry about tire pressure or flats. The ES4 also features a phone app to check battery life and customize ride modes, breaking resistance, cruise control and even has custom under glow lights with different colors.
Macwheel scooter
Next up, we have to Macwheel scooter. The Macwheel has tubeless tires with foam on the inside instead of an air tube. This means that you will never get a flat tire and never have to replace a tube. Most other scooters have inner tubes and getting a flat is common. The Macwheel features a 350-watt motor, which will get you moving at 15 miles per hour. It has a range of around 18 miles.
While it's not the fastest scooter, it gets the job done if you're looking for a less expensive commuter scooter. The one downside is that it does not have a Bluetooth app to check battery life and range.
Gotrax XR Ultra – best electric scooter for heavy adults
Now we have here the new folding electric scooter from Gotrax – that is the XR Ultra that claims 18 miles of distance.
Whereas the other scooter, I tested only had 9 to 12 miles of distance. The only difference is the red pin that you can see in the folding mechanism. The other older scooter had this funky little screw that you had to turn and take out anytime you wanted to fold the scooter in half, which didn't make it very convenient if you trying to hop on the bus or subway.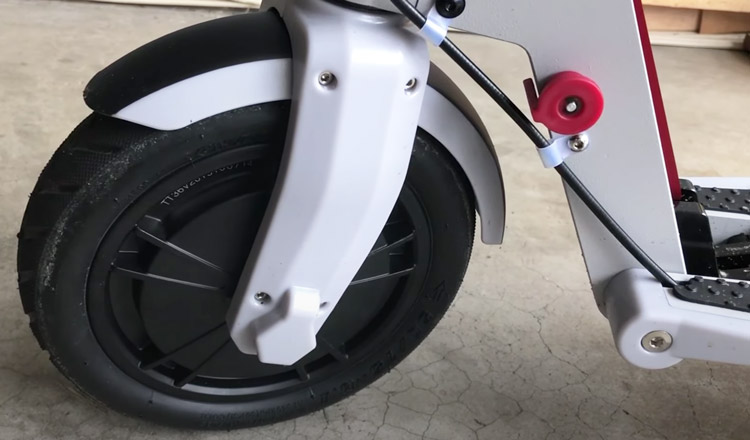 Both of Gotrax Scooters do have a rear disc brake and also regenerative braking. Although I will say on the newer Ultra Scooter, it did have a little bit more regenerative braking and I definitely felt like it was relying more on the regenerative braking, but also the disc brake performed beautifully.
The hub motors in the front of both of these scooters look identical, but the hub motor on the newer Gotrax Ultra actually is way more powerful and it's definitely noticeable. I did have my buddy who is about 270 pounds test out this Ultra scooter and the GXL V2 and he definitely said he could feel way more power. Just to keep in mind that the 270 pounds is over the 220-pound weight limit for these scooters. But it did still work. So if you're a bit above that 220-pound limit, this would probably still work for you. Looks like it's the best electric scooter for heavy adults.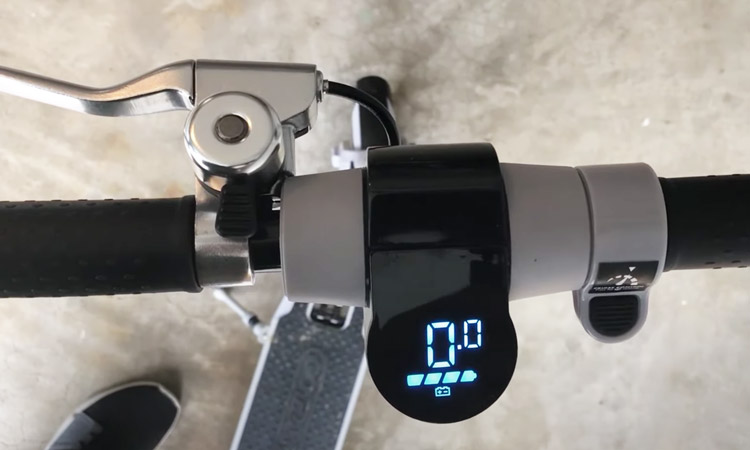 The displays are almost identical. Scooter still has the same one single function button in the front that lets you turn it on with and then you can hold or long-press the button to get to the second gear that allows you to go up to the maximum speed.
And so you also have a single press to see the ultra-bright led. And I did some testing in the dark of my garage and I did feel that the newer scooter, the Ultra did have a brighter led light. If that's something that you're concerned about, whether you're going to be commuting in the early morning or in the evenings.
If you don't plan to go fully on your electric scooter, then definitely choose the cheaper one if you don't need the range, but the XR Ultra commuting scooter is super easy to fold.
So now let's look at some specs here. So we have a 300 watt average motor with LG Chem batteries. We also see the 220-pound max rider weight. Now let's compare that to the GXL V2 commuter scooter where we get a 250-watt motor with 9 to 12 miles a range. The other one had 18 and again, a max rider weight of up to 220 pounds. The XR Ultra folding electric scooter is a little bit more expensive and that's because it has more expensive batteries, which we are going to test because they're claiming that their LG batteries will actually get them 18 miles of range.
Overall, this XR Ultra is definitely a better purchase than GXL V2 if you're going to be spending any sort of miles and you plan on using this on a daily basis to commute, I would definitely go with the Ultra just to ensure that you have all the range that you need and you're not limited.
No shocks on this scooter. Air-filled tires do provide enough cushion for you.
I will say that this scooter has way more power on any slight incline compared to the GXL V2. The GXL has a weaker motor, so I definitely say if you live in any sort of hilly area, go with the Ultra.
Gotrax GXL V2
Finally, we have the Gotrax GXL V2. The GXL has a blacked-out look, sleek design with a little branding. It has a top speed of 15 miles per hour with good acceleration. It features a handlebar brake that engages the disc brake in the rear. The only downside is the GXL does not have an app and there's also no rear tail light. The motor is also a bit noisier than any of the other scooters we tested. For range, it's advertised at 12.5 miles, and we found that to be accurate, but for the price, we think that it's currently the best deal on an electric scooter.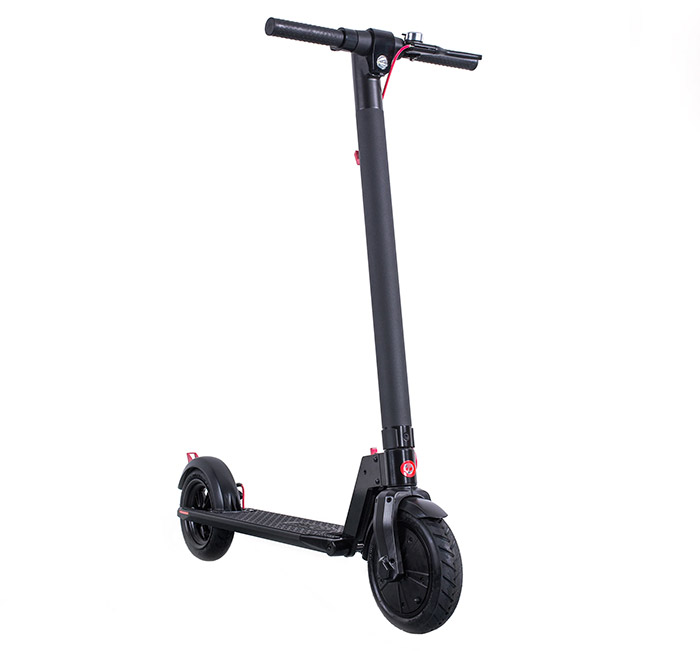 In our acceleration and brake test of the Gotrax and the Macwheel, we found that for acceleration, they were both about equal. However, in the brake test, we did notice that the Gotrax had a little bit of stronger braking than the Macwheel.